What is Workplace Giving?
Workplace Giving is a simple and effective way to donate to charities directly from your pay. The Good2Give Workplace Giving Platform is an easy and secure way to give a regular or one-time donation directly to charities that matter to you.
Help
Harry Dunn

reach their target

Donations big & small make a difference
Donate Now
Donate now using your credit card or PayPal account using our secure payment gateway and recieve a tax deductible receipt emailed directly to you
Give via Workplace Giving
powered by Good2Give
Donate directly from your salary and avoid needing to claim at tax time. Workplace giving is powered by Good2Give. Your employer must be registered with Good2Give to use Workplace Giving.
link copied to clipboard
saving changes, please wait..
page successfully updated
error saving changes
file size exceeds 512kb.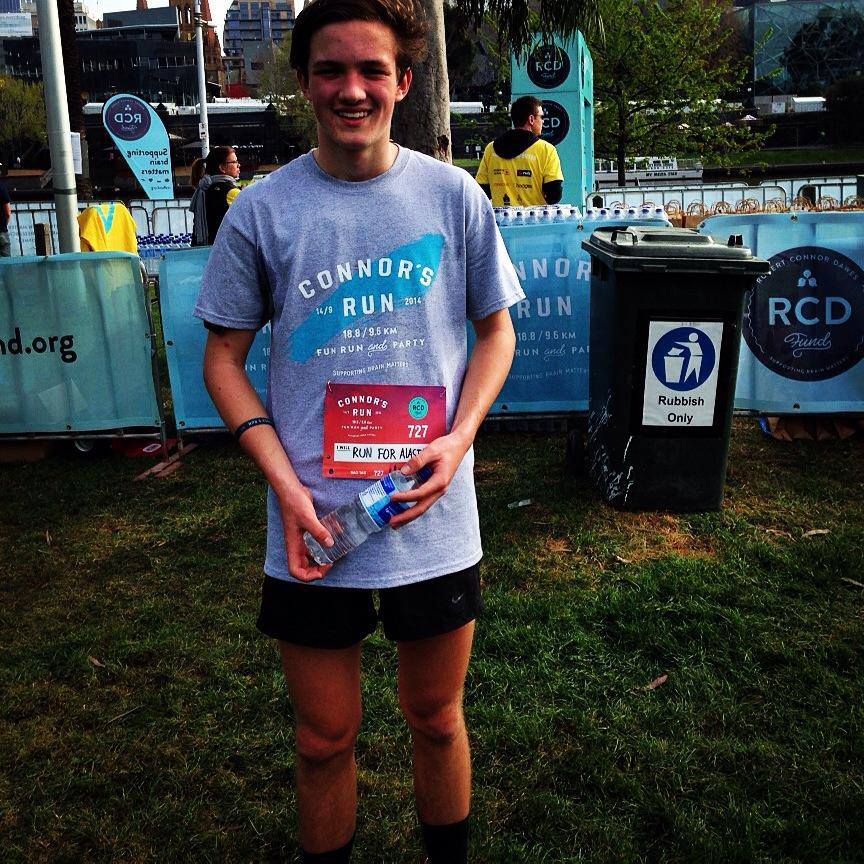 AUD

$6,711 of

AUD

$2,000 target.
Raised by 0 people in days for The Robert Connor Dawes Foundation (The Trustee for)
Biggest Supporters
AUD $864.00
Group 5 Nanjing Campus
AUD $318.00
Bartram Lawyers
Story
Hi Everyone,
I've got a little bit of a story to tell about my experiences with Connor's Run and the cause it supports. It all started when I heard through a friend about this thing called Connor's Run. I was coming off the back of a cross country season for school and I felt quite fit so my friend (Tom Fairhall) and I decided to run the 18.8 kilometre leg of the fun-run. We both finished top 15 in the race and were so happy with our result and the cause we were supporting. Little did I know about the brain tumour that I had along for the ride.
Skip forward to the end of the year; I had just finished a gruelling December rowing camp and I was really keen to maintain my fitness leading up to the resumption of the rowing season.
I was staying down in Blairgowrie on the Mornington Peninsula, doing regular lifeguard patrols at Portsea Back-Beach. I had a day off on the 8th of January so I decided to go to the back-beach with a friend to go for a bodysurf and a swim. The waves were good and after a good session of bodysurfing I was about 30 metres off the shore deciding whether to swim back out and catch more waves or to come in and have a rest. I chose the second option and swum in and sat on the beach. About a minute and a half later I begun to feel nauseous and my sight started to play up. I lost the ability to focus my vision and then I lost control of my body and my eyes rolled back, all in the space of about 15 seconds. I proceeded to go through a seizure lasting 3 minutes right there on the beach. I remember waking up with no notion of who or where I was. Thanks to the help of the excellent lifeguards at Portsea I was taken to an ambulance which drove me to Frankston hospital in a stable condition (no lights).
Upon arrival to Frankston hospital I had a CT scan (still in my wetsuit at this stage) which was to give conclusive evidence on the cause of my seizure. My parents and I were taken into a room where a doctor looked me in the eyes and told me the cause of the seizure was a brain tumour in the left side of my occipital lobe. To tell the truth I have never been so scared in my life and the next few days went by in a blur. I was transferred to the Alfred Hospital where I had a MRI scan. I stayed overnight in the hospital before we scheduled a day in one week for my brain surgery in an attempt to remove the tumour.
Being home for the days leading up to surgery was pretty surreal, I pushed so many emotions to the back of my mind and kept a positive attitude towards surgery. During the week leading up to surgery I had family and friends visit and there was never a negative attitude in our house, which helped so much. There were mixed emotions that I felt in the days before I went back to hospital. The raw terror I felt when I had to stomach the fact that I was walking into the building where my head would be cut open, my skull opened up and my brain cut. It was an incredibly daunting concept.
On the 16th of January I entered the Alfred hospital where I promptly changed into a hospital gown and was taken into theatre as the first case of the day. The only memory I have of that morning was lying on the table with anaesthetists tapping each of my forearms searching for the veins to put the needles in. I woke up five and a half hours later, after my craniotomy, very disorientated and not feeling too much. About 30 minutes later I found myself in a hospital bed with a pain that is unimaginable to me now. Apparently you can't feel pain in your brain but that day I think I could have proved that wrong. The pills I was on to help the pain obviously were not working so it took a little while for the doctors to change the medicine and I can safely say that was probably the worst and most painful night of my life. It felt like I had a hole in my head, which surprisingly enough, I did.
In the days after surgery I began to notice all the things that happen after an operation on the brain. For me, the biggest of these changes came in my vision. Because the tumour was located in the left section of my occipital lobe; the right side of my vision was altered considerably. Reading after surgery was one of my biggest issues and the sensitivity to light my eyes showed was pretty ridiculous. When I attempted to read the newspaper, let alone a screen, I had to read the word in two parts. Depending on the length of the word I would have to read the left side of the word, then the right, and then put the two halves together in my head. This was because of the lack of peripheral vision I had in my right eye, which was caused by swelling. However, in a weird combination of the new morphine I was taking and my brain accommodating for my eyes, in the couple weeks after surgery my ears felt as if they were really sensitive. I distinctively remember my first trip off the floor my hospital bed was on. After I had almost relearned how to balance and walk, I took a trip down to the canteen in the hospital. I was sitting at the table with my eyes shut and my hands over them but I could hear every person in the room and could see them by the vibrations they made when they walked. I have since put that down to the heavy medication I was on but it is interesting nonetheless. As I made progress in hospital with my recovery the frequency with which I asked the question "when can I go home?" increased tenfold.I could not wait to leave that hospital. A few days after the operation I received the best news of my life – the tumour had been fully removed and was benign. I was so lucky.
In the coming weeks I struggled with a few things at home. Most notably was the guilt. I felt so, so bad that I walked out of the hospital on my own two legs yet so many people had to stay in the ward and perhaps never leave. This troubled me immensely and I found it difficult to sleep at night when I thought of all the people left behind in the hospital who were not as lucky as I was. I still struggle with it today but the best reprieve I have found is to actually do something to help, in this case by raising awareness and funds for a charity. My recovery will take most of this year and my Year 11 has been thrown into chaos but at least I know I am lucky enough to make a full recovery.
Now I come back to Connor's Run and RCD. This is the perfect charity to help others who are in need when times are dark and tough. The work they support is invaluable. I hope after reading this I can show you just a immeasurable fraction of what some people go through when diagnosed with cancerous brain tumours and similar conditions. I would be so grateful if you would donate through me or directly to the charity to help support a great cause. Or even better, with me, if you would do the run as well!
Thank you – Harry Dunn
read more
AUD $23,304 of AUD $10,000 target
All
Donations

0
Activity

0
There is nothing to show from any feeds at the moment.
There are no current donations or activities for this user.
The fitness feed has been disabled by the page owner.

The Robert Connor Dawes Foundation (The Trustee for)
SUPPORTING BRAIN MATTERS
The Robert Connor Dawes (RCD) Foundation - In memory of Robert Connor Dawes. We support brain cancer matters in the areas of Research, Care and Development.
RESEARCH:
Brain tumour research is on the verge of exciting breakthroughs. We want to enable researchers to further understand and more completely treat brain tumours, including earlier detection, surgery and post surgery treatments (radiation & chemotherapy).
CARE:
Supporting young people with rehabilitation therapies and home assistance commonly not covered by insurance.
DEVELOPMENT:
Inspiring the next generation of brain cancer practitioners & researchers. Through awareness programs, Phd Scholarships and youth engagement activities, we're putting brain matters on the map.
Visit rcdfoundation.org for more information
read more
Created by
Harry Dunn
for The Robert Connor Dawes Foundation (The Trustee for)
Harry Dunn

's

Total
Team Totals
AUD $6,711 of AUD$2,000 target
0 people in days
AUD $23,304 of AUD$10,000 target
0 people in days
Please make sure you are LOGGED IN. You can only join a Team Leader page if you are logged in and have an Individual page created. If you do, it will be displayed here once you've logged in. If you don't, please return to the 'home page' and follow instructions on how to create your Individual page.